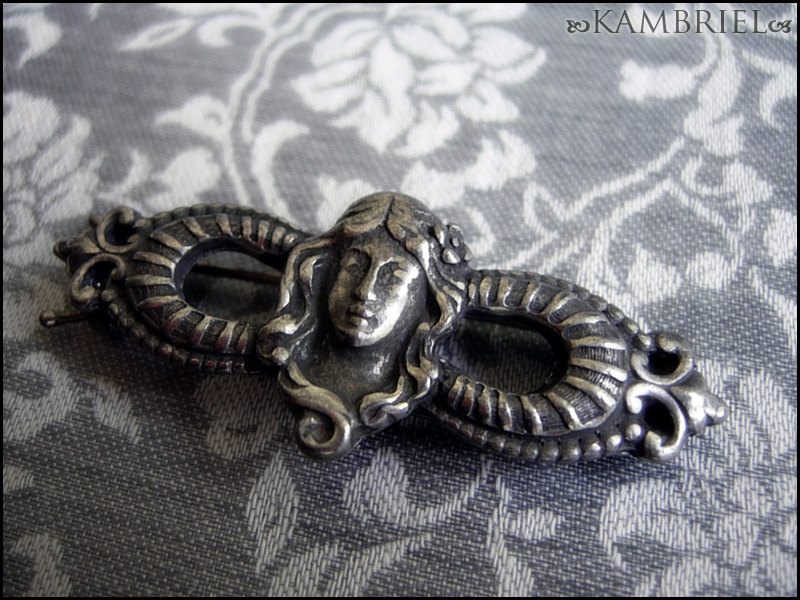 Art Nouveau Hair Barrette

~~~These are sold individually, so if you want more than one, please select the number you'd like to receive when ordering. Thanks!~~~

These rare antique Art Nouveau pewter barrettes are so very charming. I was lucky to find them as a collection of new old stock, so they are still completely original and have never been worn or used. They are not modern stampings, but sturdy cast designs dating back to circa 1900. The design features a lovely woman with long hair flowing down and around her face, centered between two striated openwork side panels that are tipped with fleur de lys. They can have a multitude of uses beyond barrettes too depending on how creative you want to get ~ I've used them as cravat pins by just clipping them over a tie or cravat at the top of the neck, or you can clip them over a strap on a top or dress, slid over a hat band, etc... You could also get creative and re-purpose them into other jewelry!

Each barrette measures approx. 2 1/4" long and open in the back as well as having a tiny "comb" portion on the inside of the barrette to help keep it securely in place.

Scroll down for a full view.

Art Nouveau Hair Barrette ~ $30

If you prefer to order with cash, check or money order, click here.