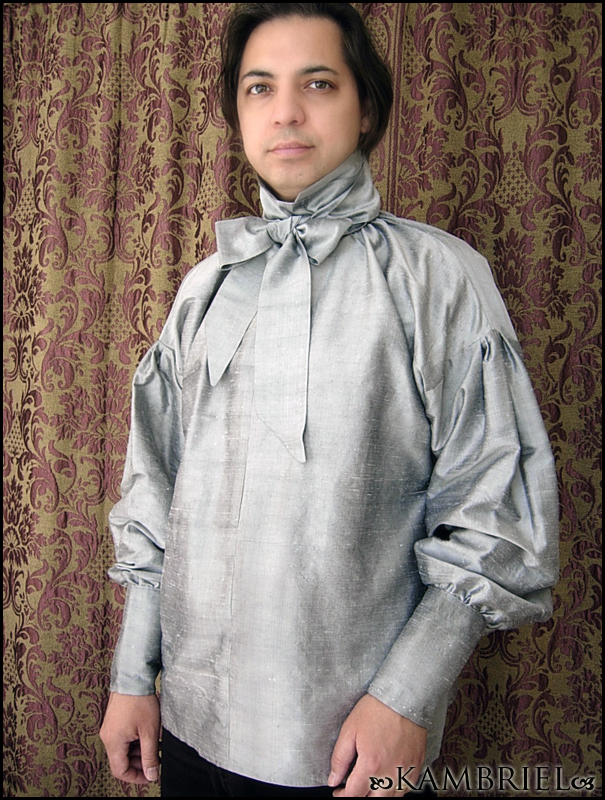 Silver Silk Bastian Shirt & Regency Cravat

This elegant and dramatic shirt is loosely fitted with billowing sleeves gathered into elongated and thrice-buttoned cuffs, has an extra-tall stand up collar which buttons at the center front opening (with modesty placket underneath) which the body of the shirt gathers into, and pleats at the shoulder yoke. The shirt and matching cravat are made in a wonderfully gleaming vintage iridescent silver silk dupioni. The buttons for the shirt are matching hand-covered silk buttons.

The cravat is made from a double layer of silver silk dupioni to coordinate with the shirt. During the Regency era, cravats were wrapped around a high collar and tied according to personal preference.

The Bastian Shirt is being shown here in one of the photos being worn with a Waistcoat available separately.

This one of a kind Bastian Shirt has a chest measurement of approx. 50" (Keep in mind this is meant to be loose fitting, so it works best for smaller sizes smaller than that. For instance, it is being shown on a model with a 38" chest), and a neck/collar measurement of approx. 17 1/2".

Silver Silk Bastian Shirt & Regency Cravat - Sold!