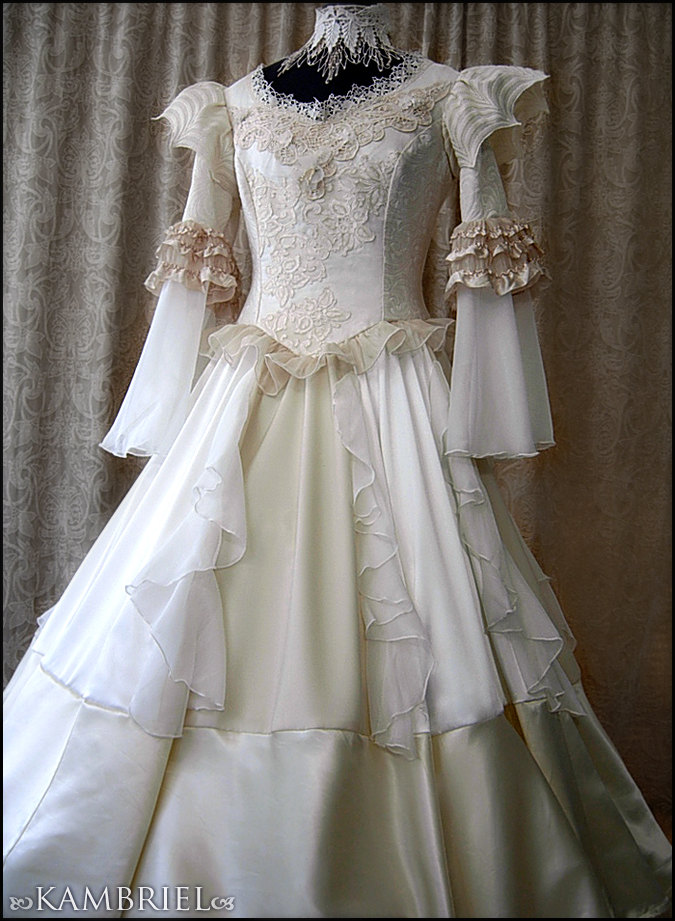 Savannah Ghost Gown


**Please note: This tea length (approx. 53") gown can be worn with or without a separate hooped petticoat for added fullness and/or length. It is shown with one for display purposes in the photo (you can see it at the bottom of the satin skirt portion in photo #5), but a petticoat is not included with this listing which is for the gown only.**

DESCRIPTION: This enchanting gown was created with love from a decadent combination of new, antique, and vintage materials ~ all blending together into one exquisite piece. This truly one of a kind gown would be spectacular for a bride who appreciates sentimentality, or any occasion where you want to truly shine like a moonlit queen ~ perhaps an elegant ball where you can dance with fellow spectral ghosts... The gown features a fitted princess seamed bodice (which zips up the back and can be further adjusted with ivory lacing in the back) trimmed with vintage handmade organza flowers with pearled centers and a delicate front overlay of reclaimed antique bridal organza appliquéd with lace. The sweetheart necklace is embellished with handmade cotton needle lace. The sleeves have whimsical winged ruffles at the shoulders, fitted upper arms made from soft ivory matelassé which gracefully flares outwards with a ruffle of organza trimmed in rows of gathered satin ribbons, transitioning into elegant sheer ivory chiffon lower flounces. There is a ruffled accent highlighting the waist, and a generously full, gathered skirt made from a combination of palest ivory/white satin charmeuse and deep ivory faille, highlighted with layers of bias chiffon and a lower section made from satin reclaimed from a 1930's wedding gown... Truly, a stunner & a dream to wear!

CONDITION: Since authentic antique and vintage fabrics and trimmings were incorporated into this gown, there are of course be some slight variances in the fabric like some very light discolouration/crushing on the lower flounce of reclaimed bridal satin, or some tiny speckles in the antique organza bodice overlay. These are simply part of the materials' history and add to the gown's sentimental charm.

SIZING: The dress can lace down a bit smaller (especially at the waist) due to the lacing in the back, but the gown's measurements are approx. 37 1/2" at the chest, approx. 32" at the waist, approx. 53" from the shoulder down to the lower hem, and have a sleeve length of approx 22" flaring out to a very full belled silhouette towards the hands. The combination of bridal materials and vintage lace are quite romantic, and while the gown would make quite an entrance anywhere, it is also quite comfortable to wear as well! As noted, this is a tea length gown, which could be full length depending on your height, but is likely to be shorter than that. If you're wanting it to be full length, this could easily be accomplished by pairing it with a full length petticoat or hooped underskirt as shown in the above photos :)

ACCESSORIES: Shown being worn with two ivory lace chokers, available separately here: Ivory Victoriana Choker and Peacock Lace Choker

~ Scroll down for other views ~


Savannah Ghost Gown - $595

If you prefer to order with cash, check or money order, click here.