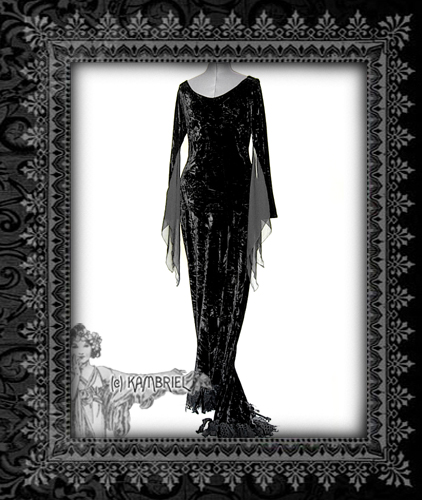 Morticia Gown

This full-length fitted gown is Kambriel's tribute to the charmingly morbid matriarch, Morticia Addams. Perfect for anything from dancing in the moonlight to doing a touch of gothic gardening, the Morticia Gown is made from sensually soft, black crushed stretch velvet which flows into a sweeping train which can optionally be hemmed (as shown) in a tattered edge of applied layers of hundreds of strips of individually hand-knotted fabric. The fitted sleeves are accented with long black georgette flares for decadent drama and graveyard elegance. This gown's overall length is approx. 53" from shoulder to the hem (or a bit longer if the tattered edgework at the lower hem is added). Due to the extreme suppleness and drape of the material, this gown will adapt beautifully to either larger or smaller sizes.

You are welcome to contact us prior to ordering for custom lengths.

~ Scroll down for other views ~


If you prefer to order with cash, check or money order, click here.