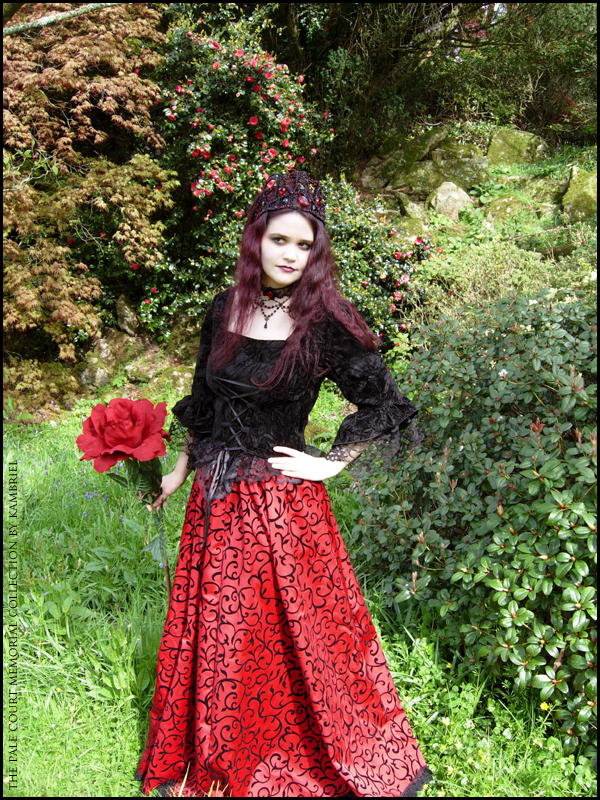 Pale Court Blood Red Ballgown Skirt
This skirt was part of the Pale Court Memorial done in memory of fellow designer and friend, Laura Purdy. This piece was one of the treasured items from Laura's fashion label, "The Pale Court" that was left unfinished at the time of Laura's death... Some items were in the very beginning stages of being cut out, while others were partially sewn. Each design was faithfully completed, adding pieces when something was missing, and figuring out the puzzles along the way. Occasionally, there will be small anomalies in the design such as a crush in the velvet due to how they had been stored, or evidence of a different kind of stitch that Laura made. These are all part of the special nature and history of these items.

Please feel welcome to read more about Kambriel's "The Pale Court" Memorial here.

These items are the last of their kind, and one of Laura's signature woven labels has been sewn into each piece of clothing.

This skirt was featured as part of an editorial in Gothic Beauty magazine, and is made from a rich crimson red matte duchess satin fabric with an intricate allover design of black velvet flocked ivy, trimmed with pointy black bridal lace along the lower hem. The fitted waist closes with a zipper and button. The waist measures approx. 31", and the length is approx. 39".
~Scroll down for other views~
Pale Court Blood Red Ballgown Skirt ~ $85