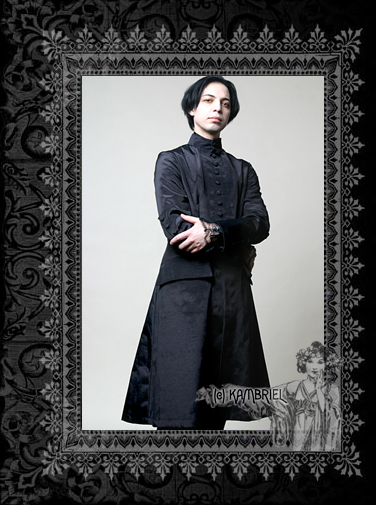 This new tailored design from Kambriel is inspired by our favorite master of potions, the velvet-voiced Severus Snape. The fitted mid-length jacket is made from black bengaline. The design is darted in the front (darts can be left out by request), has a high stand-up collar, pocket flap accents, and a spat designed sleeve which features buttoned down matching fabric overlays. The jacket also features inverted pleating in the back to create an impressive "swish" when you walk, and closes down the front with a plethora of handcovered matching fabric buttons. The jacket, has an overall length of 44" and two interior pockets. This style is unlined, yet beautifully finished inside, so it can also be worn in warmer weather. Offered in men's and women's sizes based on chest measurements from 36"-42". Please include chest size when ordering.
Scroll down for other views.
Potionmaster Jacket - $300
also available in a black wool version - $395

You may inquire to have the Potionmaster/Snape Jacket made in an XS or XL size, or customized length. Please email with a chest and/or length (from nape of neck to desired lower hem) measurement prior to ordering for a custom sizing quote.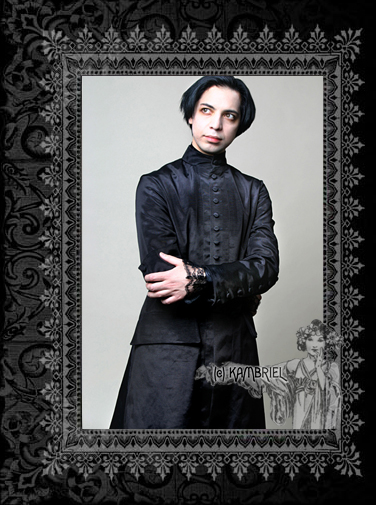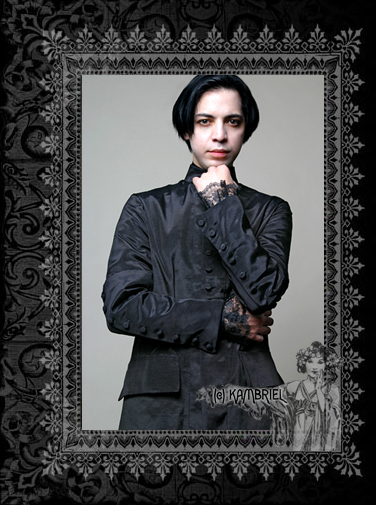 ---
Home
Catalogue
One of a Kind
Order Form
---
Photos of Curse taken by Nadya Lev
© Kambriel - All Rights Reserved.
Kambriel ® is a federally registered trademark name.
All images & titles are legally copyrighted and not to be used without permission from the
copyright owner.