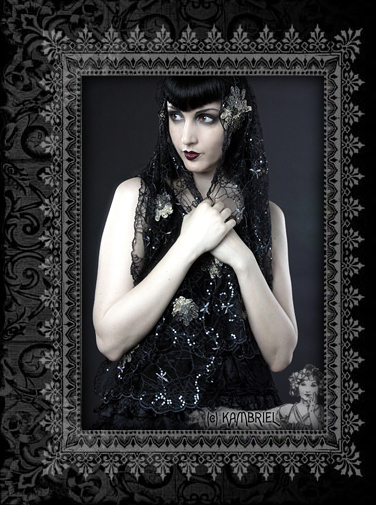 Made from luxurious black bridal lace, this shawl (shown here worn draped around the head like a veil) is perfect for a regal Queen of Night. Not your average "Halloween" fabric, this fine black chantilly lace features a delicate array of spiderwebs woven in amoungst dimensional silk ribbon flowers in muted tones of taupe and grey, and a scattering of tiny black sequins for extra glamour. *Please note, the shawl in the photo is slightly longer than the one offered, the available shawl measures approx. 9" x 36". Whether used as a finishing accent to your outfit or even in the home as a decadent table runner, it is sure to add a touch of eerie elegance.
Spider Queen Shawl - $95

If you prefer to order with cash, check or money order, click here.