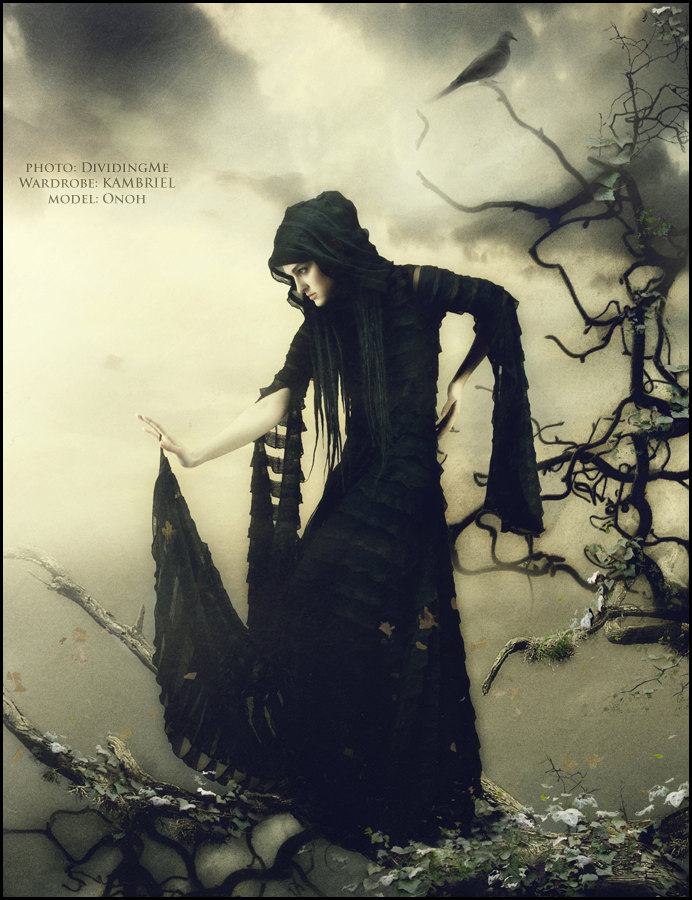 This elegant, voluminous hooded gown by Kambriel has such a mysterious & shadowy allure... Made from sheer, slightly stretchy, openweave black mesh which features row upon row of softly gathered ruffles for textural dimension, this full length gown has fitted sleeves that flare dramatically at the elbows, and an A-line style with a luxurious amount of additional fullness worked into the sides (you can't see the full expanse of it in the photos, but the lower skirt portion of the gown is a bit... massive ;)). The side hems have attached fingerloops for ease of movement when you don't want it trailing as much on the ground ~ perfect for dancing, or casting spells atop a cliffside ledge... Since the gown is sheer, I'd recommend layering it atop a basic black slip (or contrasting depending on the desired look) for opacity.

The gown's overall length is approx. 55" from the shoulders to lower hem in front, and a bit longer at the back and sides.

~ Please scroll down for additional views ~



Black Suspiria Gown ~ $325

Please type your chest measurement and front length (in inches) in the boxes below.

If you prefer to order with cash, check or money order, click here.