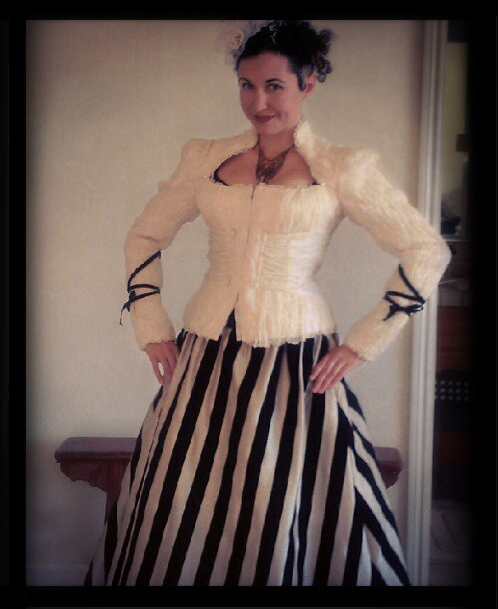 Velvet Vertigo Skirt

The first photo shows the delightful singer/songwriter/cellist Unwoman wearing her own Velvet Vertigo Skirt :)

This whimsical skirt will whisk you away to a land of timeless wonder, charm, and delight! This full cut A-line skirt by Kambriel is made from alternating contrasting stripes of a jet black velvet flocking upon gleaming ivory shantung taffeta. The skirt has an elasticized waist to accommodate a range of sizes (we can make a custom sized version for you as well), which measures approx. 28" unstretched, but stretches up to approx. 40" to accommodate a range of sizes. The overall length from waist to lower hem is approx. 36 1/2".

For custom sizing, please feel free to contact us with your waist measurement & a desired length from waist to lower hem.

The skirt can accommodate being worn atop a hooped underskirt if desired, not included in this listing (feel free to get in touch if one is desired). It makes an fantastic underskirt for layering too ~ as shown below where I featured it beneath my black eyelet Beardsley dress at the Steamcon II fashion show in Seattle, WA.
~Scroll down for other views~
Velvet Vertigo Skirt ~ $135
If you prefer to order with cash, check or money order, click here.