A custom clothing piece by Kambriel is shown in an article on Harry Potter.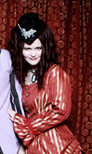 China Shop Magazine
Interview and photos
Kambriel was interviewed by the one and only Molly Crabapple, for China Shop's "Artstar" feature.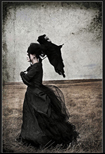 New York Times
Interview and photo
Kambriel was interviewed for a delightfully twisted article on the art and influence of Edward Gorey. It was an honour to have her work featured on the same page as Edward Gorey, Tim Burton, Helena Bonham Carter, and Lemony Snicket!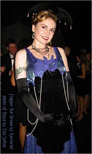 Boston Globe Magazine
Photo
Kambriel's One of a Kind Bat Dress photographed at the Animal Rescue League's Moonlight Ball, is featured in their "The Clothes We Wear" section.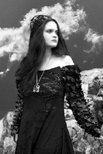 Dark Realms - Issue 31
Fashion Spotlight in Dark Realms!
The decadent US gothic magazine Dark Realms features a lushly illustrated pictorial of Kambriel's designs. This is one of their final issues, so be sure to try and get a copy while it's still available!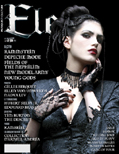 Elegy - Issue 38
Midnight ensemble on the cover!
The extraordinary French magazine Elegy issue #38 features an article on Kambriel (scans are forthcoming), and Lilah wearing the Midnight Bustle ensemble and coordinating handbeaded choker on the cover. Others featured in this issue include, Nayda Lev, Tim Burton, and more!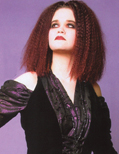 Gothic Beauty - Issue 18
Three page interview with the designer!
Gothic Beauty issue #18 features an interview with Kambriel,
illustrated with full-colour photos! Click thumbnail for previews.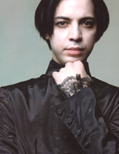 Gothic Beauty - Issue 17
Special Feature on Men's Fashion
Gothic Beauty issue #17 focuses on the men this time around with a pictorial article
on the best of men's gothic fashion! This article showcased Kambriel's Potionmaster Jacket,
Brocade Waistcoat, Aramis Shirt and Lace Jabot, modeled by Curse.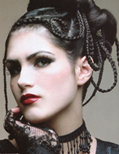 Gothic Beauty - Issue 16
Beauty Feature with Kambriel model Lilah
Gothic Beauty issue #16 features a beauty spread with Lilah,
our exquisite model for the Midnight Bustle Ensemble!
Click thumbnail for photos.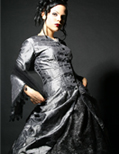 Gothic Beauty - Issue 15
Kambriel Crystal Palace Ensemble makes the cover!
The cover of Gothic Beauty issue #15 features Jillian Ann wearing
Kambriel's luminous silver Crystal Palace Ensemble!
Click thumbnail for a full view of the cover.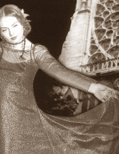 Dark Realms Issue 9
"Kambriel in Paris"
This gorgeous four page layout features photographs from our time in Paris,
and includes some in-depth answers to the editor's questions regarding
the inspirations we discovered in the "capitol of the fashion world".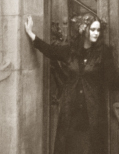 The Sentimentalist (Volume III Issue X)
"Nouveau Parisienne"
Accompanying historical text from 1911, this two page fashion pictorial
showcases some of the Parisian Art Nouveau architecture that so inspired our recent trip.
Also found in this issue is Kambriel's article on the Edward Gorey House!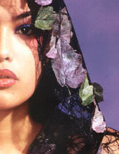 Tear Issue 4
"Betwixt Today and Timelessness"
This visually stunning, full-colour pictorial of exotic and gorgeous
creations and models is showcased alongside an interview with Kambriel.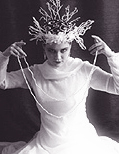 The Sentimentalist(Vol II Issue VIII)
"Diva Primavera"
A four page spread of one of a kind ethereal gowns and
headpieces by Kambriel ~ this time all in spectral white!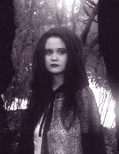 Newgrave (Issue IV) "The Fashion Issue"
"Kambriel's Atrocities"
A lush article announcing the name change from Atrocities to Kambriel,
featuring a decadent montage of garments from the catalogue and
recent fashion shows.


The Sentimentalist(Vol II Issue VI)
"The Aesthetic Dress of the Pre-Raphaelites"
Kambriel's thoughts on the stunning fashions worn by the beautiful damsels in
pre-Raphaelite paintings of Waterhouse, Burne-Jones, Rosetti, and more!
This article features flowing, romantic gowns made from luxurious woven silk fabrics.


Carpe Noctem (Issue XV)
"Atrocities: The Grand Guignol of the Fashion World"
This article includes an atmospheric photo collage and personal review
by the lovely Monica Richards of "Faith and the Muse".

If you would like to feature Kambriel's designs in your publication,
you are welcome to contact us!